Last Updated on July 13, 2021 by James
A number one bestseller on Amazon, with 1800+ customer reviews displaying their love for the product, the Bosch RA1181 Router Table is literally the best product in the market to purchase if you want to improve the precision of your hand-held router.
This exceptional Bosch Router Table is compatible with most routers, be it a plunge or a fixed router, of almost any brand, an important feature. Your woodwork will be able to come out as accurately as possible.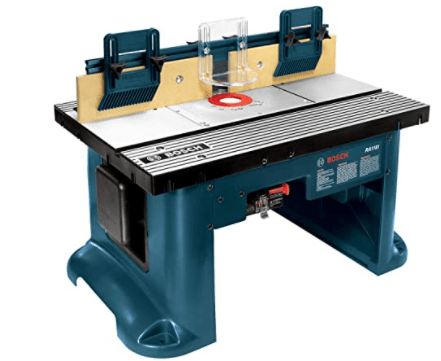 Most router tables are a hindrance if they're too large, to be a separate table by itself, or even too small as an extension of a table saw, but this product is a bench-top and, as Goldilocks would call it, just right. A bench-top router table is known for being easily portable and its adaptability to different routers.
A router, being commonly used for hollowing out wooden structures, requires a table to precisely work on larger wooden pieces. To make perfect use of such a machine, especially for any of your versatile causes, Bosch RA1181 is a great option, and we've listed some of its most important features down below to prove it.
Bosch RA1181 Table Features – Why You Should Buy It?
1. Aluminum Fence with Adjustable MDF Plates
Considering one of the main uses of a router table is to provide a platform to create precise and practiced cuts onto larger wood pieces, the fence is very important. Generally, it's used to control the cut by pressing it against the fence, which keeps the wood stationary while you cut. An adjustable and precise fence, like this one, will help increase your accuracy.
There are two basic types of fences that are presented in the market:
One-piece fence: A straight, long piece, that covers the entire table, i.e. through the infeed (right) to the outfeed (left) side of the table. A great option for accurate alignment, if the opening in the center of the table isn't wide enough, you might have some issues while working on certain wooden pieces.
Two-piece or split fence: This type of fence can be adjusted at each section, i.e. the infeed can be adjusted into an offset position from the outfeed.
The Bosch RA1181, on the other hand, includes on a long Aluminum fence, tall and sturdy enough to handle tough wood with ease. Additionally, it includes two adjustable MDF face plates for better support, proving you with the best of both worlds. You can even remove the fence to improve your woodworking experience.
2. Rigid Mounting Plate
On most router tables, the mounting plate's rigidity and flat surface can make the most difference on the finished wood's accurate cuts, this can mainly be attributed to the table's functionality. The mounting plate is particularly adjusted to your router and needs to be able to withstand its weight. Its compatibility with your router is a big strong point, and a versatile mounting plate can help you switch between as many of your favorite routers as possible.
The Bosch RA1181 router table includes an Aluminum mounting plate, that can withstand and bear the heaviest of routers present in the market. Additionally, it includes 6 variations in mounting configuration to be able to adapt to any router while including several hardware sets that can make mounting your router easier as well.
3. Adjustable Featherboards.
Featherboards are mechanical devices specifically used to apply consistent pressure upon the wood to hold it in place against the fence, especially in places where your own fingers shouldn't be placed. Seeing how the router rotates at high speed, without a featherboard, getting those small but essential cuts would be highly dangerous, if not, impossible.
Seeing how the Bosch RA1181 comes with adjustable featherboards, you can adjust these clamp-like grips onto the wood, depending on the shape you'd like to procure. Their versatility is desirable for every woodworker out there, being mountable even to the horizontal table, providing top as well as sideways pressure.
4. Dust Ports
While working on your woodworking, you don't want the residue dust to be gathered around the table. It doesn't help you focus well on the product at hand. Therefore, a dust port is a must when considering a router table.
A vacuum connected to the fence, the Bosch RA1181 takes care of all your excess dust problems handily.
5. Large Aluminum Workspace
A flat top is an essential feature for any woodworking to occur, ask any other individual who's looked into purchasing a router table. To be able to slide your wood smoothly so that the wood can be cut precisely enough, you'll need a good flat top. To be able to handle large pieces as well, you'll need a larger workspace as well, with the other aspects of your table not taking up all the space.
Bosch RA1181 provides you with exactly such a large workspace, the top built of aluminum, strong enough to hold your wood, with an average enough smoothness.
6. Warranty
Backed by a one-year warranty, courtesy of Bosch, you are also liable to a 30-day money back guarantee along with a service plan spanning a year.
7. Price
According to the several, namely 665 customer reviews on this router table, it is the best-priced product on the market currently. And it is. With the features that have been provided, as well as the quality of the entire table's content, it's a great contender. No wonder it's currently the best-selling product in its category.
Assembly Of Bosch Ra1181 Router Table – Must Read
Quoting a customer review on Amazon, "Assembly was a breeze." It took them around 90 minutes to assemble all the products to its finished presentation. It might be a little complex, but not so much as to confuse you entirely to frustration.
Dual Outlet Switch
A heavy duty dual outlet switch, this feature comes with a lock to make sure no other individual starts it up without permission. A feature like this is perfect for people with children who don't want them messing around in their wood shop.
Conclusion
To conclude, a professional design, the Bosch RA1181 router table will require you to know exactly what you will be cutting and exactly what you require the result to look like, as it's functionality is far advanced enough to cater to all specific needs.
Bosch Router Table – RA1181 Review by Woodworking Expert
Fence        
Mounting Plate        
Featherboards        
Dust Ports        
Warranty        
Assembly        
Summary
If you are into woodworking field, then you must have heard of the brand name – Bosch. Today, we have tested various router tables available in the market and without any doubts, we can claim that Bosch RA1181 Router Table is the winner.
We have reviewed RA1181 router table by Bosch and recommended why you should buy it today.