Last Updated on April 6, 2021 by James
Looking for a way to expand your woodwork repertoire? The Bosch RA1171 Cabinet Style Router Table is the perfect solution for all your expertise to improve. It is much more than just a router table compatible with Bosch routers. The RA1171 is created with a 3/4″ thick laminate MDF and almost 1 1/8″ thick top to ensure the stability of the router table.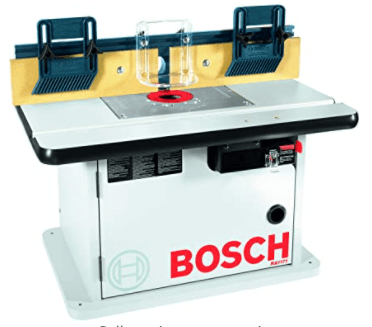 Bosch RA1171 Router Table Features – Why you should buy it?
Three tabletop inserts (1 inch, 2 inches, and 2-3/4 inch diameter hole) are included to set up any of your work devices on the router mounting plate and comfortably use them to complete your masterpieces. A heavy-duty aluminum fence that can effortlessly support massive horsepower routers without the slightest hint of distortion or sagging is a much-appreciated feature in the all new Bosch RA1171 Cabinet Style Router Table.
A quick look at the architectural flair of table and cabinets
Bosch RA1171 Cabinet Style Router Table is big enough to tackle most woodwork jobs and is small sufficiently to be managed at home woodshops or job sites. The striking balance between sizes achieved by the Bosch RA1171 is a much-coveted feature, especially for those who are conservative about space consumption.
The cabinets are 18″ wide and 13″ front to back. The distance between ground and underside of the table is a good 12 ½" that can conveniently seat a two 1/4Hp router like the Bosch 1617. On fully extending its columns, it can comfortably seat a massive three 1/4Hp router like the Bosch 1619EVS.
Want to clamp it up to a bench for consistency? All of that is already taken care of by the one ¾" wide lip along the sides of a 21 ½" long base, 14 1/8" deep Bosch RA1171.
All corners come predrilled with a ¼" diameter hole for screwing into the bench. The table (25 ½" long, 15 7/8" deep) has an aluminum miter slot from side to side exclusively for 'T' structured miter guide bar.
The extra mile
Taller pieces are the real benchmarks to be crossed when it comes to routing tables, and the Bosch RA1171 Cabinet Style Router Table passes that with flying colors. The oversized aluminum fences have adjustable Medium Density Fiberboard (MDF) faceplates to accommodate taller pieces steadily into the cutting platform.
Two adjustable feather boards are also attached to the fence to promote efficient guidance and kickback protection. One of those feather boards use a mount to lock itself into the miter channel but can be easily changed to mount onto the fence.
Nobody likes a clogged and cluttered work area, and that's why the new Bosch Laminated Router Table has not one, but two integrated dust ports to hook up 2-1/2 inch vacuum hoses and to let you completely forget about the mess and concentrate on the work at hand.
Safety Check.
A prewired switch block on the Bosch RA1171 is a welcome feature among routing tables. A rocker switch that rocks a "bump" off cover ensures that the router is turned on only when necessary and can be shut off immediately whenever required. A removable key present on the switch block makes the routing table inoperable if the key isn't in place. This key plays a prime role in ensuring the safety of coworkers by preventing any misuse in your absence but is not a substitute for unplugging the unit from a source of power.
Easy to use, check. Work efficiently, check.
Two grounded outlets are present in the Bosch RA1171, both of which are controlled by the On/Off switch. To operate the router and dust collector from the same place, plug in the router in one outlet and the dust collector in the other. Bit guards are included in the Bosch RA1171 packaging to keep your fingers away from proximity to the bit.
On proper installation, the bit guard also blocks chips and splinters from taking to the air upwards. With the combined effort of bit guards and dust collectors, the amount of debris created is an all time low on this router table.
From the box to working condition in just an hour?
Assembling the Bosch RA1171 Cabinet Style Router Table is quick and easy. The cabinet parts come ready to be put together. In almost all scenarios, the predrilled screws are target specific and will match only its correct attachments. A 4mm Allen wrench is also included in the Bosch RA1171, which can be used to screw in the special MDF screws that have Allen socket heads and is used to hold the cabinet parts together.
All of the holes needed for switches, hinges, and other accessories are predrilled and unique for its corresponding parts, making assembly a child's play. The only adult supervision needed will be for adjusting the aluminum plate to fit the tabletop.
A Quick Overview of the Key Features
An aluminum router mounting plate that stays flat for accuracy and is predrilled to accommodate various routers
A tall aluminum fence (4-7/8 inch x 25-1/8 inch) attached with MDF plates that are adjustable to work conveniently with tall pieces.
Accessory slots that are capable of accepting feather boards and 3/4 inch optional accessories like, miter gauge.
For an extra bit of guidance and protection, two feather boards that may be attached to the fence and the table.
Packaging includes out-feed fence shims, starter pin and guard, adjustable clear guard, mounting plate insert rings, adjustable feather boards, and exclusive hardware for mounting Bosch routers.
One year limited warranty.
To keep the mess at bay, two dust collection ports for a 2-1/2 inch vacuum hoses
A solid fence system that simply cannot be praised enough
A notable feature when it comes to router tables is the fencing system; the Bosch RA1171 does everything right with its 25″ long, 5″ tall aluminum fence.  Apart from being large, square and adjustable, it is also removable to permit freehand routing work!
Tools are completely eliminated in the functioning of the fence system by making all controls hand operable knobs.
Extreme rigidity is provided by a large gusset channel that runs along the inside corners of the aluminum fence. The rear ends of the fence and individual faces have flat routing surfaces making it really easy to assemble it to a perfect square.
Also Read: Best Router Table Complete Review & Guide
Final Verdict
If this fence system isn't already a dream come true, Bosch provides a pair of 1/16" thick, full-sized shims (with slots instead of holes to slip them in easily by just loosening the MDF faces) that can be inserted into the outfeed face to transform the Bosch RA1171 into an efficient jointer.
The only possible downside to the Bosch RA1171 Cabinet Style Router Table comes at the dust collector. A gap near the on/off switch box poses a possibility for an air leak, but it varies with the hose used by different users.
The vacuum system, however, does need air to flow to remove dust at the rear, so it's a slight adjustment that is inconsequential compared to all of the great benefits that come with the Bosch RA1171.
Bosch Router Table – RA1171 Review by Woodworking Expert
Fence
Mounting Plate
Featherboards
Dust Ports
Warranty
Assembly
Summary
In case you are into woodworking discipline for so long, you then need to have heard of the name – Bosch. Today, we've examined numerous router tables available within the marketplace and without any doubts, we can declare that Bosch RA11871 Router table is the winner.
We've got reviewed RA1171 router table by means of Bosch and endorsed why you should buy it these days itself.