Last Updated on June 24, 2021 by James
What do you do when a tree in your backyard has got towering branches that needs to be trimmed? You could do two things here: either call a professional to do the needful or learn how to use a power tool specifically meant for this purpose so that you could do the maintenance task in the future as well.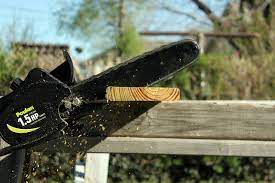 If you are thinking of the former – go ahead, dial the numbers. But if you are thinking of investing in a speciality tool – you need to look for a pole saw. If that has taken your interest, you are at the right place.
What exactly is a Pole saw?
A pole saw, which is also known as a pole runner, is nothing but an extendable pole which also acts as a mini saw. It is designed with a six or eight inches cutting area which is meant to cut branches of trees. The height of this extension pole reaches up to 7 or 9 feet and it could also go up to 10.5 feet.
It could even be powered, in doing which it will take the form of a small saw, particularly a chainsaw. The source of power could be gas, engine, battery or mains electric.
If it is a non-powered pole saw it will have a pruning saw, which will be attached to the end of the pole.
Before buying a Pole saw…
The first and foremost thing to keep in mind before buying a pole saw is that you need to look for an options that has a good power-to-weight ratio. If you are using a pole saw it could often be taxing for you since you are expected to support and guide a speciality tool high up in the air. Even though it is not too heavy, holding it to a height for a long period of time can make you feel tired.
These days a lot of pole saws are coming in electric models which have the same cutting power and are also relatively cheaper than a gas-powered pole saw. They are cheaper in cost and also easier to maintain which makes them a great option for homeowners.
In case your backyard is a small one, go for one of the corded models, which will not require battery pack or other adaptation equipments thereby making them light in weight. But do keep in mind that they will have limited reach.
In case you want to cut branches or trim a tree which is more than 50 or 100 feet away, your best option will be a cordless electric model. However, in the both cases make sure that the range of energy usage is more than or somewhere around 8 amp.
In case there are more than one or two trees you have to trim, go for a gas-powered pole saw. In case you go with a cordless pole saw they will be good to use for an hour or so. But with a gas-powered pole saw, go for a range of 32 cc to 34 cc so as to be able to cut through branches conveniently and quickly.
Tips to Use a Pole Saw
Just like a full-length chainsaw, using a pole saw also requires some amount of guidance so that you know the method to operate them safely and efficiently. Here are a few tips and tricks to keep in mind when working with a pole saw:
Check the Area
Ensure that the area where you are using the pole saw to trim trees is clear of any kind of power lines or other things that could be damaged. Also, keep in mind that the area where you will be working in is free of any form of hazards.
Climatic Conditions Need to Be Kept in Mind
In case it is really windy or there are higher chances of rain, you should not be working with a pole saw, especially not with a corded model.
Check the Condition of the Tree
See if the tree you are going to trim has dead branches or loose barks or rotting areas. The condition of the tree might have different reactions on the pole saw. Sometimes it could also make it vulnerable to kickbacks or cause the saw to work up faster or slower.
Keep Your Feet Planted
Your base needs to be a good one, which means that you need to ensure that both your feet are firmly planted and you balance them well while working with a pole saw. Try not taking a foot off the ground while the saw is running. And always ensure that both your hands are on the pole saw.
Conclusion
If you know that the model of pole saw you have invested in is the right one and you follow these tips as well, we can assure you that you will have a worthwhile experience in using the pole saw.
A pole saw can be useful and handy speciality tool when you know how to use it properly, however, it could also cause potential damage in case you do not handle it with care.