Last Updated on July 13, 2021 by James
CNC router, or what is called Computer Numerical Control, is a procedure through which you can automatically process 3-dimensional cutting and milling. Having the best CNC router gives you the benefit of producing factory-grade work in a small workspace or home. It takes help from the computer or software which directs the predetermined cutting process that further leads to delivery of precise and consistent work with the good amount of reproduction and the higher level of productivity rates, as and when desired.
If you have a CNC router you can easily work with wood, plastic, foam and other forms of materials for making carvings, decorations, signboards, panels, furniture, moldings, frames among the various kinds of DIY produces.
Woodworking With CNC Router
If you are an ardent DIY craftsman, having a CNC router will give you the benefit of precision and speed at an affordable price for the product. It is easy to use and easier to learn as well helping you bring your designs to life in a couple of minutes. So, let's explore some of the best CNC routers in the market at present to help you decide which one could be the ideal choice for you.
View the Best CNC Router for the Money, Below.
The Axiom Precision AR4 Pro+ is the best CNC router in our list and has been built from the ground up like a sturdy industrial machine but it can also be used in a small workspace as well. Undoubtedly, it is the best in its class and comes with a liquid cooled 3 HP variable speed spindle, along with precision ball screws on every axis, a high torque precision stepper motor, an extruded aluminium 24 x 24-inch table and a cast aluminium frame. You will require a power supply of approximately 220 Volt and it runs on spindle speed of up to 24000 RPM.
Of all the 3 AR Pro models, the AR4 is the smallest in size, though weighing 320 lbs. It comes with a handheld controller to operate the entire machine and it can read the design file from a flash drive, in which you do not require the need for it to be connected to a computer. It is a bench mounted unit, which makes it a good lightweight industrial machine. Ordering an AR4 from Axiom gives you the benefit of it being configured according to your needs and it can be built and customized in fine precision to provide you with accuracy, high production speed and repeatability.
You will not find any corner cuts on the AR4 as the nuts and bolts are of great quality. The data cable connectors are also of industrial grade and it also comes with an onboard cooler that makes this machine a benchmark unit in the marker. If you go by the amazing features of this machine that includes training and life-time support as well, you will realise that the price is reasonable enough.
Best Features
It has been designed to be of industrial grade quality and capability.
It is 4 axis capable.
Training, configuration, and service after buying.
Made in USA.
It comes with a high torque precision stepper motor.
The CNC Shark HD 4 is a next wave automation CNC router that is also an upgrade of the popular Shark Pro Plus. It comes with a plethora of amazing features that an ardent DIY CNC user will greatly enjoy using. Two of the best features in this upgrade is the heavy duty reinforced gantry and the interlocking aluminium table – this helps to reduce the backlash that were caused in the previous models of the Shark CNC routers. It also comes with a colored touchscreen pendant controller which is easy to use just as a smartphone and you can run programs on it via a flash drive.
It has been designed majorly for commercial purposes and it has the capacity to handle large routers as well such as the Porter Cable 890. Bosch 1617 or even the Next Wave Automation water cooled spindle. Two cool features with this CNC router are auto-edge and auto-sensing which help to measure and locate the workpiece and then identifying the start point wherever it is located in the 25 x 25 inch bed. It further comes with Virtual Zero software that can identify and map the work surface with the highest level of accuracy. You will also avail the added bonus of VCare Desktop V9.0 Design Software and Vector Art 3D Sampler Pack along with your purchase.
The stability of this machine which weighs 187 pounds will surprise you and it comes with a simple design without too many attachments and parts. You do not even need to connect it to a computer, no matter how many repetitive runs you make. Hence this CNC router is one of the top ones in our list!
Best Features
It is made for commercial purpose majorly with a reinforced build.
It comes with a touchscreen controller.
It is compatible with any large router.
Made in USA.
Virtual Zero Software to map the work surface.
The CNC Piranha XL comes with an extended work surface and most of its features are similar to the CNC Shark HD but the best part about it is that it comes at a much lower cost. The touchscreen controller with it has an auto-edge and auto-sensing capabilities, which are an added bonus on the Virtual Zero software that helps to map the work surface. Two extra features that makes it a steal deal package are VCarve Desktop V9.0 and the Vector Art 3D software.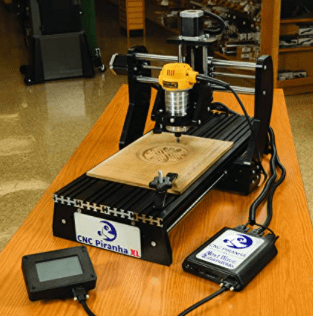 This CNC router comes with an XYZ travel dimension of 12 x 24 x 4 inches and it can run all types of palm-style routers such as Porter Cable, Dewalt, Bosch among others. It is compatible with most kinds of materials but majorly wood, plastics and soft metals. Alike the previous two in our list, this CNC router also does not need to be connected to a computer – all you need to do is create a design, save it on a flash drive and plug it with a USB port and you can run the program.
The best part about this CNC router from Piranha is that it comes pre-assembled and weighs only 75 pounds, making it fairly stable and portable. The overall design and built up is pretty simple and neat and does not come with excess cabling. There won't be much of a trouble operating it as it is basically plug and play with a slight adjustment. The machine is overall convenient and easy to use and it is highly recommended for those who are looking for a compact CNC router with all the basics features at an affordable price.
Best Features
It provides a plethora of features at an affordable rate.
It comes with a touchscreen controller.
It does not need to be connected to a computer.
It is lightweight and comes pre-assembled.
Made in USA.
The JFT 3040 is a Chinese brand which provides you with an industrial grade CNC router that includes features such as all-metal built-up, a 22 x 14 inch work bed, a 11.8 x 15.74 x 3.5 inches of XYZ travel. It further comes with a 110-volt water cooled machine that can keep the machine cool and make it consistently stable even with longer and continuous hours of work. The spindle can turn at a speed of up to 24000 RPM, and it can also engrave at a speed of 2-137 inches per minute. There is a separate housing which consists of the control unit and it can easily operate on various types of software that also includes ArtCAM, CopperCAM among others.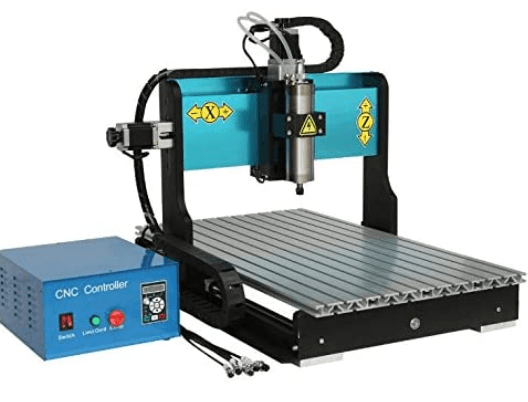 This CNC router from JFT is beautiful in its design and appearance and at the same time sturdy in its construction as it is made with hard-alloy aluminium gantry along with a 16mm ball screw look ideal for most kind of industrial usage, further making the machine rigid as well. You have to go through the user manual to set up and operate the machine but once it is running it can easily overthrow most CNC routers in terms of their power and speed. To add to that, this machine does not make much noise when it is running. Lastly, this machine is easy to use and comes at an affordable price ideal for both hobbyist as well as pro level users.
Best Features
It comes with a heavy duty construction.
It is rigid and stable in its power and speed.
It comes with a water cooled operation.
It is compatible with most operating systems.
Spindle can turn the speed up to 24000 RPM.
The FX model of Piranha is a base model CNC router which has been put out by Next Wave Automation. It not big in its size with its configuration being a 12 x 18 inch table and a 12 x 13 x 3 inches of XYZ travel. Alike its higher end models, this one can also run Bosch, Dewalt and other similar palm routers. It is also supportive of the 3D Digital Duplicator touch probe that can allow tracing and duplication of objects to about 0.001 inch of details. This CNC router comes with a touchscreen control and some more operating features that you will find in the high end models of Shark and Piranha XL.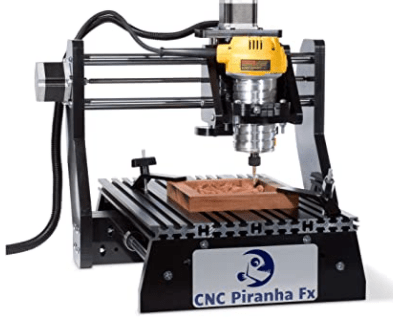 If you are into specialising of soft materials you could save money by opting for this model from Piranha as the only major difference between this machine and other high end Next wave machines is the rigidity and size. You will enjoy the advantages of most of the expensive CNC routers in this machine. However the only point of concern is its level of accuracy that is compromised because of the movement in the gantry. If you want to focus on working on softer and lighter materials at a considerably slow speed, the bit size can be minimized as well. However the one level of backlash with it would be that it might wobble at acceptable levels. It is overall a good CNC router which is affordable and at the same time is compatible with your application.
Best Features
It is a good balance of capability and affordable price.
It comes with a touchscreen controller.
It has all the necessary features that you will find in most high end models.
Supports 3D Digital Duplicator touch probe.
Made in USA.
#6. Taishi Desktop CNC Router
The operating specifications and technology of this CNC router from Taishi is quite similar to a JFT machine. It is made of aluminium alloy plate which is a solid 15mm and weighs approximately 120 pounds. It comes with a small 35 x 26 inch footprint and a 21 inch gantry height, making it a rigid as well as a stable machine. You can do the cutting with a 0.8 KW air cooled spindle that can run up the speed to 24000 RPM.
The Taishi CNC router can easily produce speed to up to 137 inches per minute, with a power supply of 110/220 volts. The machine comes with an external 3-axis control box and a VFD inverter spindle speed regulator. However, you will require a desktop computer that runs on Mach 3 to operate this CNC router.
The table and gantry are sturdy enough with a solid built up and comes with a smooth motor operation that produces low level of noise. This Taishi CNC Router is a great machine that is ideal for hobbyist as well as those craftsmen who enjoy making DIY small-materials. Once you level and assemble it, the router can cut through with 0.04 mm of accuracy and it can reset within 0.05mm. Among the mid-priced ranged CNC routers, this CNC machine is the by far the best and it could be one of the best additions to your workspace.
Best Features
It has a solid and sturdy construction.
It is affordable.
It is easy to assemble and mount.
It comes with 0.04mm accuracy.
It produces low level of noise.
The BobsCNC router is a home-built engraver kit that is ideal for beginner or students of CNC unit. One of the primary materials in this CNC router is solid wood. You can benefit from a 17.7 x 15.3 x 3.3 inch cutting area and further comes with a DEWALT 660 router. The gantry and cutting head runs on a rail system which supports SG20U. The router is controlled by a microprocessor which is Arduino-based which runs Grbl motion-control software. You will require to connect it to a computer in order to run this CNC router and it is compatible with Windows, OSX, Linux, and Raspberry Pi.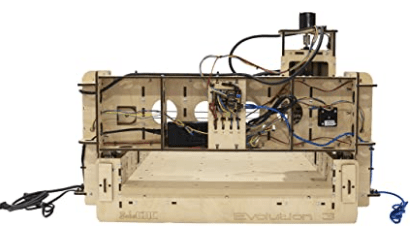 Assembling and mounting this kit is a task in itself but it will also be a good experience for you, even with the added effort. The price is also considerably affordable considering the size of the machine and it also comes with a router. The built up is made of solid wood which has its own benefits, however the one downside is that you won't be able to remove flex from the gantry and bed. However, wood is also eco-friendly and it is also easier to work with it for most users who like to modify the machine. For beginners, it is a fun machine which can provide great level of learning.
Best Features
It is easy to assemble.
It is a great for beginners.
The brand provides good customer support.
It is compatible with Windows, OSX, Linux, and Raspberry Pi.
MYSWEETY CNC router comes in a kit which comprises of all its parts. It is constructed with aluminium along with a few plastic components. This CNC router further comes with a 3 axis capability which can run on 110 or 240 Volts and gives you work area of 6.5 x 7.5 x 2 inch. The cutting plate is also made of aluminium and the spindle can run up to the speed of 7000 RPM which is controlled by 3 two-phase 1.3 amp stepper motors. The process of assembling this router kit is pretty easy and you can also do with support available online. The kit also comes with a Gblr controller software which can run on a number of programs for tool path creation.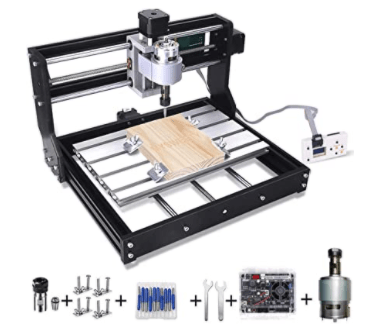 What we liked the most about this router is that it is affordably priced and appears as a scaled down model of the high end industrial machine. You will enjoy assembling the machine and then witnessing it operate. The process of setting it up is a learning experience in itself as you have to connect it to a computer and a tool path software to make it work. The kit comes with PCB cutting bits, so in case you want to cut wood or other such materials you have to buy bits separately. Also expect to purchase LED readout and an ER 11 power supply separately to make the CNC router work properly.
The MYSWEETY CNC router is a great value for money if you are looking for a basic level CNC router for your small hobby work or it can also be used as an educational gift for school students.
Best Features
It is ideal for beginners or those interested in small hobby work.
It can run a number of materials.
It is constructed with aluminium and comes with a 3 axis capability.
It is compatible with most of the operating systems including Windows, OSX and Linux.
Conclusion
By now you might have realised that the price range of CNC routers is a broad one, but the tools are simple and easy to use. The money you invest in your CNC router will make your work more efficient, but the cost could go up a few notches depending on the additional features you need. If you enjoy CNC work you will soon outgrow the entry level models.
Best CNC Router 2021
Axiom Precision AR4 Pro+ 4-Axis-Ready CNC Router
CNC Shark HD 4
CNC Piranha XL
JFT CNC 3040 CNC Router/Milling Machine
CNC Piranha FX
Taishi Desktop CNC Router
BobsCNC E3 CNC Router Engraver Kit
MYSWEETY DIY CNC Router Kit
Summary
Looking for the best CNC router? Find one that fits your budget and needs with our detailed CNC router reviews and comparison above.