Best Wood Planer to Buy 2021 – Reviews & Buyer's Guide
Last Updated on July 13, 2021 by James
Tired of using hand planers and getting uneven surfaces? Looking for the best wood thickness planer that would meet your demands and requirement and confused which one to buy? Well, look no further as we have handpicked the best benchtop planer, according to the needs of various customers, their budget and the scale of production. Any woodworker deserves the best planer suited to them and you can choose your planer from our handpicked list.
Best Planer to Buy 2021
Here's a list of the best benchtop planers available:
DEWALT is one of the most trusted and dependent Brand is every field of constructions and as you would expect it takes its place on top of our list and if you want to get the best benchtop thickness planer, then this would absolutely be that!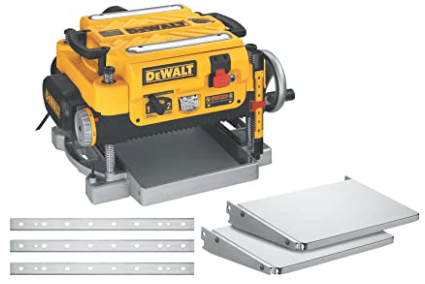 DW735X is more suited for professional and commercial works, with a pricing of the range of $600 to $700, which perfectly suits the quality and the features this brings to the table.
The real package comes with an adapter hose for dust, the infeed table and the outfeed tables with a width of 33 – 1 /2″ of material to support and extra pair of knives are added. The best part of the most recent DEWALT DW735X is how it brings adjustable speed in the equation, giving you brilliant control over all your planning pieces. You can alter the speed of the device for optimization of the cuts for best results at 96 to 179 CPI. It has a width capacity of 13" and a depth capacity of 6 inches. A mega depth turret is added to allow the users more comfort for returning to their desired and most common thickness they prefer.
DEWALT DW735X comes with triple knife cutter feature, which increases the knife life of it by 30% than usual. The knives are very easy to replace too when required. The Planer is operated with the help of a 15 ampere motor with a speed of over 20,000 rotations or cuts per minute. Though it looks like some very powerful machine, They have introduced another safety measure in it. They have introduced an automated carriage lock, whose purpose is to prevent movement unless required to operate by the user.
It has a weight of over 92 pounds and it comes with a 19 – 3 /4″ casted aluminium base, to boost the durability of the tool. There is another gauge attached to remove materials and an extra long and large scale for thickness is installed to get accurate cuts and along with a fan-assisted vacuum for ejection of chip.
DEWALT DW735X comes with a 3-year warranty along with free servicing contract of one year, to ensure the best possible quality for the consumer.
The extra blades and knives that comes with the product is often dull or easily damaged on heavy use, so having better quality blades as a backup would be a good plan, more so if you work on the hardwood.
The other problems faced often was that the product is not good for the heavy and hard imported hardwoods or woods that are highly figured, but then again, no bench-top Planer is, so you should be using a cabinet planer, if your requirements ask for it.
On the whole, the DEWALT DW735X is the best benchtop planer in the current market, with flexible speed, zero snipe, as it has been promised. Even though it is the most costly product in our list, the quality and service it brings in go well with its price, and DW735X is a machine for a lifetime. No owner has regretted buying this product as of yet.
Features:
 DW735X has a motor rated at 15 amperes, 20,000 rotations or cuts per minute.
 It has a 3 knife cutter head.
 Two-speed gearbox.
 A fan assisted chip ejection.
 DW735X comes with a Dust hose adapter and Dust ejection chute.
 The maximum cut depth of 1/8 inches
 Maximum input width of 13 inches.
 It has a Warranty of 3 years and a year of free servicing.
Pros :
 DW735X is very well renowned and highly rated benchtop planer.
 It provides high quality and is long lasting.
 The machine is very powerful with a three knife cutter head.
 Brilliant customer service
 Recommended for heavy and commercial use.
Cons:
 It is a bit expensive
 DW735X is more of a workshop model than a portable one.
 The Standard Knives don't last very long and replacements knives are expensive.
 One must assure hearing protection before use.
 Few users complained it is very much like its old model.
Amazon's Choice: DEWALT DW734 is an older version of DW735X model, with a significant difference of having smaller blades and the other being the absence of automatic carriage lock system, which prevents the need of any user involvement, and due to added extra features to the new model, DW734 weighs about 12 pounds lesser than DW735X.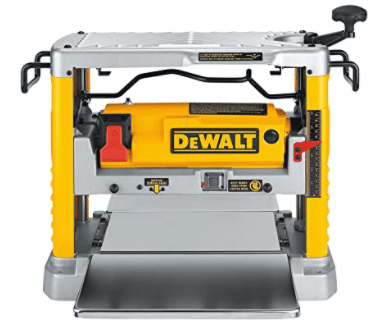 DEWALT DW734 has been priced at a tag around $400 to $500 Dollars, with the actual product coming in with a much-required dust hood. This like DW735X gives a three-year warranty on the purchase and a year of service. DW734 weighs in about 80 pounds.
DW734 comes in with a three blade system, increasing the knife life by 30% than usual, with easily disposable and also reversible triple blades which can be easily replaced. The cutter performs at 96 CPI , giving the perfect finish among all other benchtop planers.
DW734 has 15 ampere motor with a speed of 20,000 rotations and cuts per minute. It has a width capacity around 12 – 1 /2 " and as for the capacity of depth of the machine is around 6 inches. The DW734 brings the max depth of cuts to 1/8". It has depth stop for the turret which allows the users to go back to their most favored or preferred depth. It removes Snipe using an effective manual 4-column lock.
The infeed, out feed tables installed in the DW734 gives support of over 33 ½ inches of matter, and a material excretion gauge is added to remove dust collection and an extra large scale, which helps the workshops with finer and more precise cuts than before.
While buying this product, one must be aware that often users have claimed that the machines consume the blades very fast, so having a few backups are necessary, but these complaints mainly rise from heavy commercial users, who uses the machine intensely at a high rate, while they have praised the machine for having zero snipe performance.
Taking everything into account, DW734 is an excellent product and a much cheaper alternative than the DW735X for those who don't want to compromise with quality. Though lacking behind in power, this has zero snipe rate and very good value for price.
Features
 DW734 has a motor rated at 15 amperes and 20,000 rotations or cuts per minute.
 It has a triple knife cutter head.
 It has disposable and reversible steel knives.
 DW734 has a maximum cut depth around 1/8″.
 It has a maximum width of 12 ½ ".
 It also comes in with a three years warranty and a year of free service.
Pros:
 It is a much cheaper alternative to DW735X.
 It has a very good finish cutting on the final pass.
 It is highly rated and very popular
 It has a minimal snipe, thus a proper investment.
Cons:
 It is heavy and thus is not portable.
 The standard blades are normally weaker in quality.
 Complaints of average to poor dust collection system is often heard from the users.
WEN 6552 13" models, bring in an excellent value for thickness planer we can get in approximately $370. The Wen 6552 comes in with a 15-ampere motor, capable of making 25,500 cuts or rotations per minute. The depth of machine is adjustable, ranging from 0-3/32 inch. Along with this, WEN 6552 has a fan assisted post for dust, that can remove chips and sawdust and waste from the workstation whenever required, thus adding in more comfort for use.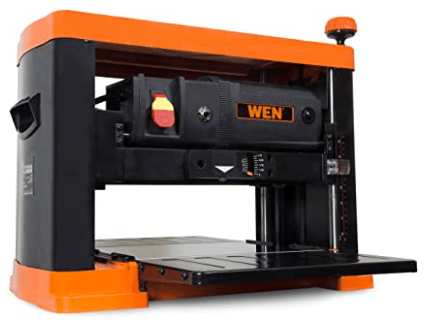 The Blades and knives of WEN 6552 are made up of carbon steel and are double-edged. It comes with a granite table attached to it never wraps thus providing smoother and finer surfaces for the best of finishes. Granite maintains its own shape for long periods of time, being an igneous rock, the table is assured to provide with the best support for the required planning assignment handed over.
WEN 6552 has a matched iron frame along with the granite table, making the system very durable and reliable. This can be used to plane works of 6 inches of thickness and a width of around 13 inches. This product weighs in about 70 pounds, much lighter than the previous items on the list.
WEN 6552 benchtop planer, has got some very good reviews, with a brilliant value for money product. Though, it has faced some issues with snipe and saw dust residuals and few complaints that the knives don't cut that good.
WEN 6552 is the best planer for its price and is highly recommended for household and Do it yourself workshops.
Features :
 WEN 6552 comes in with an onboard removal gauge that informs users about the cutting depth of each pass when put in work.
It's plane boards is 6 inches thick and a width of 13 inches.
 WEN 6552 has a motor rated at 15 amperes, with 25,500 cuts per minute on a 26 feet per minute feed rate.
 The three blade system installed in it helps to cut through even the hardest of all woods.
 Fan assisted dust port that removes any sawdust from the workstation.
 It comes with a warranty of 2 years.
Pros
 Excellent value for money, at about half the price of other expensive brands.
 Easier to replace the blades.
 This is the improved and more powerful version of WEN 6550.
 It is perfect for household and DIY uses.
 It is portable.
Cons
 Presence of snipe at the leading and trailing edge.
 This is not recommended for industrial or commercial use.
 Blades are pretty weaker than other models.
Whenever we talk about the best and most popular benchtop Planers in the market, 2012NB will surely have a place up the high ranks.
2012NB 12" thickness planer is priced at around $550 to $650. It comes with a intra lock automatic head clamp, which gives Makita 2012NB thickness planer a boost to the top with much similar pricing to DW735X model.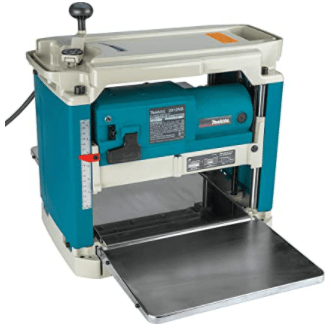 The actual package is delivered with 12 inch double edged blades. The package would also contain a magnetic holder, one blade wrench and a key with a toolbox, to enhance the experience of customers and the quality of the product.
Makita 2012NB cares about the environment and its users, so it has a noise level as low as 83 decibels, preventing any noise pollution or permanent damage to the ears of the workers. This also has an advantage for the DIY and household workers, and users take pleasure in work even more while working on this machine. The machine also has an internal-lock system which avoids any type of sniping issues or problems.
Makita 2012NB can cuts width of capacity around 12 inches and the depth of the cuts can range to 1/8th of an inch. We can adjust and alter the depth for cutting, to boost the precision of work and stop it for repetitive cuts and more.
The machine comes with a motor rated at 15 amperes, with a blade speed of more than 8,500 rotations or cuts per minute. Makita 2012NB weighs in about 62 pounds, thus the machine is portable and can be used for works in different sectors. The planer has an external led switch attached to it, to signal if the power cable is plugged in or not.
You can easily replace and change the Blades of Makita 2012NB, a pair of disposable double edged blades are attached to it. It also brings a voluntary dust collector to the table, which would surely help users at varied workstations.
Makita 2012NB benchtop thickness planer is among the best and most popular planers in the market and has maintained its Brand value throughout the years.
Features :
 Makita 2012NB has a motor rated at 15 amperes with a speed of 8,500 rotations or cuts per minute.
The machine has a maximum input width of 12 inches.
 It can make cuts at the depth of 1/8 inches.
 It has a maximum planning depth of 1/16th of an inch.
 It has a low noise bar at around 83 decibels.
 Makita 2012NB comes with double-edged planer blades.
 The product includes accessories like a Blade set, a magnetic holder and a wrench with a toolbox.
 Makita 2012NB provides its user with a One-year warranty plan from the day of purchase.
Pros :
 Makita 2012NB takes the cake in terms of portability on comparison to the DEWALT series.
 It is very highly rated and is very powerful.
 This has one of the most accurate cuts.
 It does not take part in noise pollution with one of the quietest models of planers around.
 This is the best possible alternative to DEWALT DW735X of late.
 It is compact and portable.
Cons :
 It is quite expensive compared to other planers.
The dust collection hood is sold as an additional feature along with the product.
 The dust collection outcome on the hood occurs of an odd size.
 Doesn't fit in every shops and vac.
 The changing of Blades can be quite a hard task.
Delta 22-555 Portable Planer is one of the best portable planers in the price range of $320 to $400. The machine is powered by a 15-ampere motor operating at 18,800 cuts or rotations per minute. The 22-555 model has a good way of handling and is able to meet the needs of the users for different kinds of works and purposes for smoothing and precise planning. Motor has enhanced efficiency by introducing stainless steel for the bed which also reduces the acting friction on the surface. Protection is given to the machine in the form of an overload switch, to prevent cases of overheating.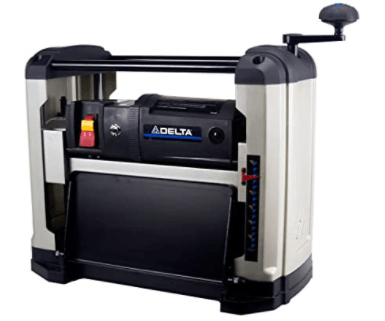 The 22-555 portable thickness planers have a maximum cut length of 3/32". They are executed by using two double-edged and reversible knives. There is a quick alter system introduced for ease and prevents the users to face the complicated alignment jigs.
Long pieces of materials are supported by the infeed duct and the outfeed duct. The snipe gets reduced. Along with all this, they have introduced double polyurethane rollers to prevent the materials from any errors and slipping. These are positioned right next to cutter head to get a finer result.
Machine's cutter head made of precision steel to boost the accuracy and durability of it. The waste chips after work are done is collected simultaneously from both the sides by the machine, for they have made it reversible, to increase the handiness of the machine.
The Delta Power Tools 22-555 Planers are very stable due to their four column structure. It weighs in around 58 pounds, thus the machine is very handy. Delta Power Tools 22-555 Portable Planers comes in with warranty of five years, highest in all the products from our list.
Some great reviews for this product are found for its value of price. It is stated to have improved a lot from its earlier versions and is now very comfortable and skilled to work in a professional environment. Though, the motor being more powerful could have made it easier. It has some issues with the snipe which users often tamper the machine to avoid it to occur again.
All in all, this is product brings diversity to the list for all the different needs it should cater to and is an excellent value for its price. The huge warranty period surely adds a boost to it too.
Features :
 It comes in with a 15-ampere motor.
 It has a reversible dust port attached to it.
 It has a maximum depth cut of around 3/32″.
 The infeed width lies at 13 inches.
 A dual edge knife is introduced in the system.
 The knives could be replaced with ease.
 It has a warranty of 5 years, longest of all.
Pros
 Delta Power Tools 22-555 Portable Thickness Planers are a great value for money.
 The machine is very precise and has a solid build.
 The snipe is reduced as much as possible.
 Replacing the blades don't take much work.
 Portable and highly recommended to the household, casual and DIY workers.
Cons:
 The performance is poor on the hardwood.
The machine is not that powerful for commercial and industrial purposes.
These are other cheaper options a customer can look at before buying. These are often cheaper and more useful in various needs and have a good value for money.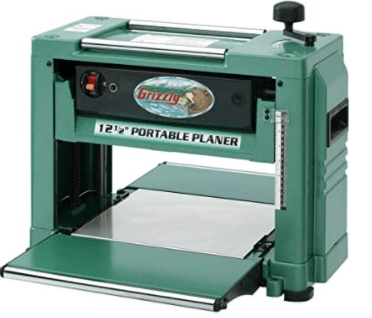 Features:
 The machine has a maximum width of cutting of 12 ½ inches.
 It has a maximum height of cutting of 6 inches.
 The maximum depth cut ranges to 3/32 inch.
 The machine can support a board of minimum thickness of 13/64 inches.
 It has a speed of 10,000 cuts or rotations per minute.
 It has a feed rate of 32 FPM.
 It can cut up to 52 CPI.
 They have introduced a pair of double-edged knives in the cutter head.
Pros:
 1/8 inch knives are introduced to the system to last longer and to be more precise.
 They have installed a large table extension for better infeed and outfeed.
 This is the perfect choice for household and casual workers.
Cons :
 This is an old product now and would be obsolete in the near future as it lacks some of the modern features.
 These are not advised for professional or industrial workshops.
This is another viable option for buyers as it is the good old trusted one and has an excellent value for its price. This is one of the cheapest wood thickness planers in the market and certainly the best in its own price range.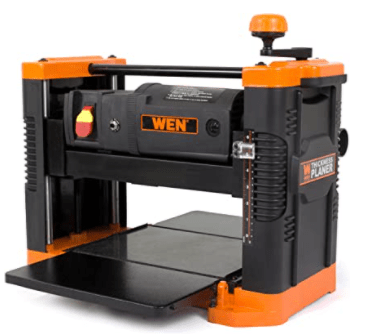 Features :
 6550 comes with a granite table to provide a strong and well-built surface for it to pass smoothly.
 The plane has a board of 6" thick and a width of 12 1/2 " and adjustable depth could be added on to   the blades from a range of 0 – 3/32 inch, with every pass.
 The machine has a 15 ampere motor with a speed of 18,800 rotations per minute with a feed rate of   26 fpm.
 A fan assisted port for dust is introduced to remove any sawdust from the wooden piece.
 As the granite table can't be wrapped, it provides suitable support to material passing through to the table and a sturdy planer to avoid any disturbance while performing.
Pros :
 It has exceptional value for price.
 It is trustable and durable.
 Best of the cheaper available options to get the best planers around.
 It has a heavy base, unlike cheap products made off with wobbly lightweight materials.
 Good for home and DIY use.
Cons :
 The absence of a spiral head.
An old model thus lacks modern features.
 Not advised for professional or commercial purposes.
Benchtop Planer Buyer's Guide
While talking about the Best Planers in the market, let's not forget the need to buy a suitable product for your work, else we might be disappointed if you expect to buy the most costly product and for it to do extraordinary work for all the money you spent. Rather, we could look at this as a guide to product's features and it's advantages and reviews and buying the best possible option for your workshop.
Planers with a contrary to other simple tools have evolved a lot as many different manufacturers add on their individual modification to it. Thus introducing a lot of variety in the machine and you require to choose which variety suits you the most.
The first task of all is evaluating the project it would the working on and the purposes it would meet and perform before buying one. If the machine takes a longer time, then it might imply that a serious workload in under process, and you should go for planers that is easy to handle, lightweight and should have an ergonomic grip present which prevents your hand from tiring.
While involving in heavy workloads, if you have a similar kind of works, you can go for a planer having the exact width and depth measures fitting your requirement. It is important to consider all the types of knives and the kind of wood we would be working on, as all the knives are made perform and resists the best, but few types of woods are often difficult to engrave through.
Also, take where the tasks would be performed into account. The working environment would dictate the collection system for dust desired and choose with respect to that.
As different jobs require different models, the mechanical ones often require more accuracy and to have same dimensions to every manufactured board, thus you require to choose a planer having depth stops to have the necessary thickness fixed and make the work easier to execute.
Handheld planers are better for creative work, but when it comes to professional and mechanical work, benchtop planers are the best but choosing one matching your requirements of the projects is necessary. While professionals might prefer handheld ones as they are much easy to hold, but with all the ones who have worked on a bench top planer, is aware of the limitations of the handheld products and can use benchtop planers for a variety of work, and would choose the mechanically operated ones any day.
Choosing the best benchtop planer is important for your value for money, so checking the power requirements and as the bench top models come with heavy rated motors, precision and accuracy triumphs over everything.
Conclusion
It is important to assess your project and workshop requirement before going for the best Planer that meets your need. Choosing something on the basis of its look and features won't take you long on the road with the money you've spent. This is a machine that must be opted in accordance to the demands it is supposed to meet and the various uses it would be put into.
Failure in these fields brings no responsibility for the product rather than the fault of the user to put it into use. Choosing the best planer thus requires a task of evaluation of the project and the best possible planer meeting the demands it would face. Well now that you have an idea of the various benchtop planners available in the market, go ahead and buy the best one for your project!
Best Planer 2021
DEWALT DW735X 13-inch Two speed Thickness Planer
DEWALT DW734 Bench-top Planer
WEN 6552 Bench Top Planer
Makita 2012NB Thickness Planer
Delta Power Tools 22-555 Portable Thickness Planers
Grizzly G0505 12-1/2-Inch Planer
WEN 6550 Benchtop Planer