Last Updated on July 26, 2021 by James
If you want a power tool, you cannot do with just any kind of jigsaw. You ought to find the ideal jigsaw, no matter how time-consuming it be. To make the task easier for you, we have researched this guide for you so as to help you choose from the best jigsaw in the market as of now along with all the necessary information you need to make the purchase. We have laid out the best of tips and advice for you to help you choose the perfect jigsaw for you. So, let's have a look at some of the best jigsaws in the market today. In this article, we share with you the most useful tips and advice you will get about finding jigsaws in the market.
The blade in a jigsaw is somewhere between ¼ inch to ½ inch wide and is also very thin and flexible enough to ensure that your cuts and curves are neat and proper. Usually, the jigsaw goes up and down in reciprocating movement and makes the cut on the upstroke. Ideally, jigsaw is used to cut wood or other such material of the same level of strength but if you have the right blade with you, it can also efficiently cut metal sheeting, straps and also stones. There are two common styles of the jigsaw: barrel and D-handle (sometimes also called top handle). While D-handle is the most popular type of model used, barrel style jigsaws are easier to control.
Jigsaw blades are known to provide good amount of adjustment with blade speed, stroke length and oscillation style which makes it worth it price. With this, you get the benefit of increased efficiency, faster cuts and less damage when working with the jigsaw. Most of the jigsaw units come with LED work lights or even laser guides. Which jigsaw is ideal for you depends on your requirements and the features and factors that work in your favour and how to access your needs.
In this article, we share with you 5 of the best jigsaws in the market as of now and educate you with all its important features and must-know factors.
The 5 Best Jigsaws of 2021
1. Bosch 120 Volt 7.0 AMP Variable Speed Top Handle Jigsaw JS470E
7.0 AMP powerful motor.
Can cut upto 5 ⅞ inches in soft wood.
It can bevel up to 45 degrees.
With blade ejection, the tool-less blade changes and prevents handling hot blades.
Four settings for orbital action.
Low level of vibration along with smoothness in performance.
Ambidextrous trigger lock.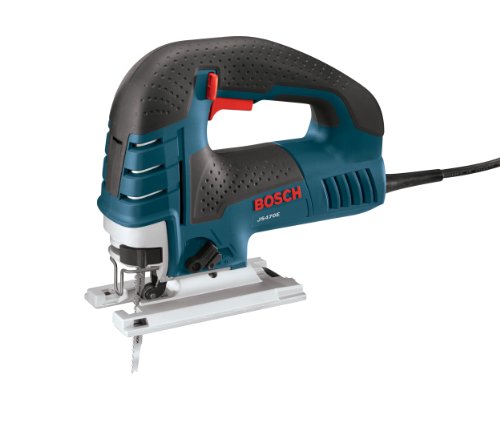 This jigsaw from Bosch is by far the best top handle jigsaw in the market. It is known to be the most rugged and durable jigsaw with raw power that can help to tackle any woodwork along with top SPM of 3100. It can also bevel at up to 45 degrees that helps to cut through all kinds of softwood which is upto 5 ⅞ inches thick. Furthermore, it has some striking features such as a dust blower, variable speed, tool-less blade changes and an orbital action that comes with 4 settings that helps you cut through rough surface slowly but with a precise finish. It is also great at not producing inconsiderate vibration when you have it in your hands, along with its ambidextrous trigger lock. This way you can comfortably use it for longer hours than the usual.
What We Liked The Most About This Jigsaw?
It is convenient to use as it comes with a tool less blade change system and quicker insertion that prevents one from touching the jigsaw when it is hot.
It comes with a 4-in-1 four orbital-action tool setting which allows you to experiment with various blade strokes from aggressive to smooth cuts up to the toughest cuttings.
You can also have better control with the variable speed dial for maximum speed and the accelerator trigger helps to control the operating speed.
2. PORTER CABLE PCE345 6 AMP Orbital Jigsaw
Best Features
It comes with a powerful 6.0 AMP motor.
It has a 7 position adjustable speed dial which goes up to 3200 SPM.
The blades are tool-less.
Four settings for orbital action.
Trigger lock.
Low vibration with rubberized overmolding.
T-shank and U-shank compatible blades.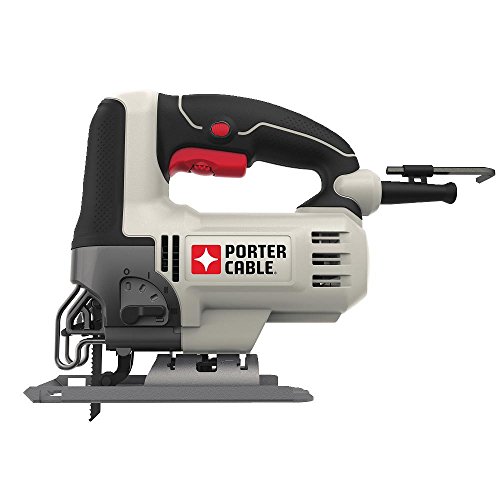 This orbital jigsaw from PORTER CABLE is an affordable and sought after piece of fine machinery with a pack of interesting features. It comes with a 6.0 AMP powerful motor that can reach up to the speed of 3200 SPM, giving you great cutting speed. Along with this, it also comes with orbital action from four different settings. The speed can be easily adjusted depending on the surface you are cutting through. One great thing about this jigsaw is that it is compatible with both U-Shank as well as T-Shank blades and it can bevel up to 45 degrees. To add to that, it comes with a 3 years warranty.
What We Liked The Most About This Jigsaw?
This jigsaw is known for its 7 position speed dial which is integrated in the trigger.
The motor is powerful enough with 6 AMP speed.
There are 4 orbital settings for cutting through various types of materials.
3. Black+Decker BDEJS600C 5.0 AMP Top Handle Jigsaw
Basic Features
Powerful 5.0 AMP motor.
Can bevel up to 45 degrees in both ways.
Solid variable speed up to 3000 SPM.
Four settings orbital action.
Tool-less blade change.
Dust Blower.
2 years warranty.
T-Shank and U-Shank compatible blades.
Trigger lock.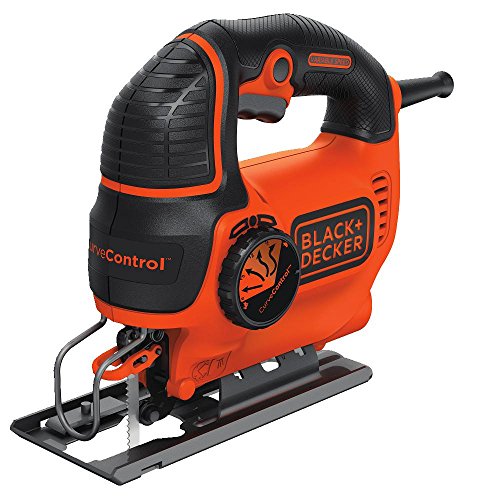 If you are looking for an affordable jigsaw which comes with a whole lot of tool at a low cost then the Black & Decker BDE JSC600C is the ideal jigsaw for you. You get a warranty of 2 years with this jigsaw in case any part of the machine falls off. It has a powerful and solid 5.0 AMP motor that is ideal for any kind of homeowner task, however it could struggle slightly with hardwood or metal. It can bevel up to 45 degrees in both ways with variable speed along with its orbital action, tool less blade, and a dust blower. It is ideally compatible with both U-Shank and T-Shank blades.
What We Liked The Most About This Jigsaw?
It comes with a Curve Control technology that gives you the comfort of adjusting the jigsaw's orbit in 1 of 4 customised settings.
It comes with a 5 AMP solid motor which gives a cutting speed of 3000 SPM.
You can bevel cuts at 45 degrees along with adjustable shoes for the right amount of stability.
4. DEWALT DCS331M1 20V Max Lithium-Ion Jigsaw Kit
20V Max Lithium-ion power.
Variable speed to 3000 SPM.
Four setting orbital action.
Dust blower which is adjustable.
Tool-less blade changes.
Rubberized over-molding for the required level of comfort.
Compatible with T-shank blade only.
3 years of warranty.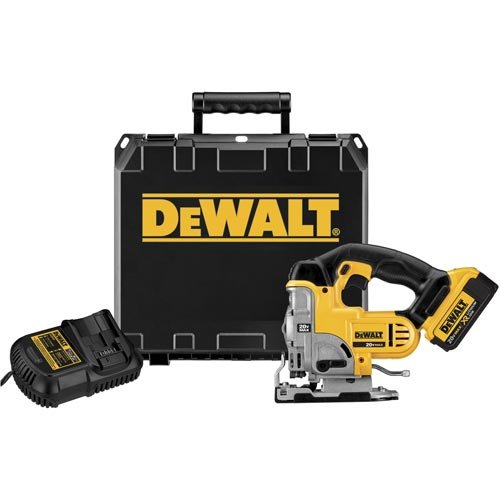 This is by far the best cordless jigsaw in the list and is battery operated which runs on 20V Max Lithium-ion platform to give enough power for all kinds of professional usage. It comes with variable speed which can reach upto 3000 SPM and a four orbital-action setting. You also have the option for tool-less blade changes and it comprises of a dust blower which helps you to adjust the limit of air forced out of the machine. The quality of the battery is good given the affordable price. It is overall great for cutting through thinner wood and metal but struggles a bit with thicker metals.
What We Liked The Most About This Jigsaw?
This jigsaw comes with all metal lever action keyless blade change.
They further come with all-metal keyless shoe bevel with detents at 0 degrees, 15 degrees, 30 degrees, and 45 degrees.
There are four position orbital action also to help you make precise cuttings.
5. Makita XVJ02Z 18V LXT Brushless Top Handle Jigsaw
The motor is a powerful 18V LXT.
Three settings orbital action.
Tool-less blade changes.
Brushless motor helps to optimize the run time.
No load speed reduction.
Dual LED work lights.
Dust Blower.
Rubberized overmolding.
Trigger lock.
3 years of warranty.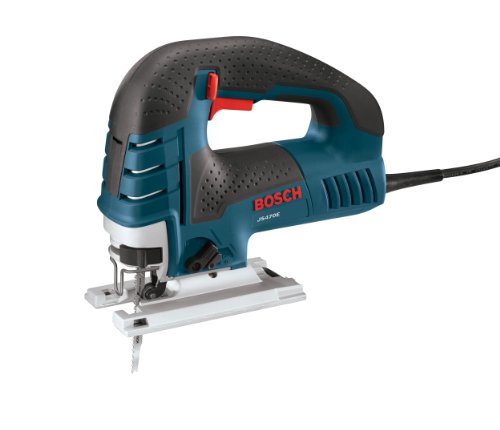 This battery operated jigsaw from Makita is the most expensive in our list but it is packed with some solid features such as a powerful 18V LXT motor which can speed up to 3500 SPM. What is even better is that the speed can be adjusted. It comes with both a dust blower as well as a dual LED work lights. You can easily spot your cuts when working with the jigsaw. Furthermore, there are three separate settings for the orbital action and it is lightweight with just 5.8 lbs of the battery inside it. You are sure to be contented with this jigsaw as it is lightweight and comes with exciting features that will suit your requirements.
What We Liked The Most About This Jigsaw?
This jigsaw from Makita comes with brushless motor and a 3 orbital setting that gives straight cutting at speed and more accuracy with different kind of materials.
It further comes with 6 speed control dial that allows the user to match with the speed of the application.
It also comes with an efficient BL brushless motor that is controlled electronically with optimum battery energy usage so that you can use it for longer hours.
Which Is the Right Type of Jigsaw for You?
Cordless Power Tool VS Battery Operated Jigsaw
These days the most preferred machineries in terms of capability are those which are battery operated. There was a time when only drills were cordless and ran on batteries, but today most machines and tools come mostly in battery operated version. Battery operated jigsaws are equally efficient to use and popularly preferred as cordless power tools. However, the usage of power tools is not the same as battery operated jigsaws. The use of jigsaw comes with not just cutting through wood pieces or drilling holes but also for cutting that takes time and expanded energy. As Lithium-ion batteries are surging today, cordless power tools are exponentially gaining momentum. Li-ion batteries have longer battery life and they can even recharge quicker over time which makes the jigsaw work for longer hours along with lesser downtime.
Battery operated jigsaws are the tools of the future and they are far more reliable and powerful as compared to most other tools and machineries. On the other hand, corded jigsaws are lesser in cost and powerful as well and they are in even lightweight in comparison to battery operated jigsaws. You can get unlimited cutting time as there will not be batteries that could run of power while you are working. Again, on the contrary, battery operated jigsaws have the power of being portable. This also means you do not have to take the pain of carrying fussy cords along with you making the jigsaw easy to maneuver. They are however more expensive but not as expensive as the corded versions.
However, at the end, whether you want to go for a battery operated version or a cordless jigsaw depends entirely on your requirements and habits of working with a jigsaw.
Barrel Grip vs D-Handle Or Top Handle
Most of the jigsaws mentioned above are top handle ones but barrel grip jigsaws are equally good as well. When it comes to features, both top handle, as well as barrel grip jigsaws, are identical, what makes a difference is a way you handle it. Irrespective of whether it is a barrel grip or a D-handle jigsaw, ultimately it is a matter of personal preference among the two as they are both convenient and easy to use. The main reason why a lot of users prefer barrel grip is because of its easier control over the jigsaw blade as the hands are lower and gets closer to the blade. The one reason why some do not prefer it is because the larger grips tend to wear out of one's hands quickly. However, most jigsaws come with the top handle or D-handle blade variety so it is either ways worth the take.
These 8 Features In A Jigsaw Matter The Most
1. Orbital Action
Orbital action or oscillation action refers to the movement of the blade when you are cutting with it. This specifically means the cutting face of the blade without any funky action happening. The orbital action leads to change in the path of the blade when one is cutting with it. So, this means that the blade could move up or down or have no orbital movement at all but with higher orbital setting, the blade will tend to move slowly in a loop while moving forward inside the material that it is cutting through at every stroke. Either ways of the setting has its advantage. If there is no orbital action with the blade, the cut will be a lot more precise but it will be slower in action. However, when the orbital action is quicker, the jigsaw will tend to cut quickly but it could also leave behind tear outs.
2. Bevel Capacity And Adjustment
A bevel cut refers to a cut wherein the blade is not at 90 degrees to the material being cut. If your jigsaw can tilt the saw housing well, it surely comes as a handy feature with your jigsaw. However, some jigsaws come to handle the bevel capacity in a much better way as compared to most others. For example, some jigsaws come with a preset stop at a common angle interval and this gives a lever for quick adjustments. Furthermore, easy to read scales allow for right placement of the jigsaw and having preset stops will help to take all the fuss out when you are cutting through.
3. Variable Speed
Variable speed might not seem important but it can make a world of difference in terms of skill level and comfort. It is actually quite simple as it allows to tune the speed of the blade depending on how much you squeeze the jigsaw trigger. However, preference for variable speed of the jigsaw depends entirely on the user.
4. LED Light
LED light in a jigsaw is a small work flashlight which turns on every time the trigger is engaged even it be slightly and lets the light shine exactly over the surface needed. This helps to see your cut line clearly if you are working from a dim light setting, as often standing in the wrong place can cast shadow over the cutting surface and make the cut almost impossible to see. You could couple the LED light with a dust blower, which comes as a handy combination.
5. Dust Blower
When you cut with a jigsaw, it will throw dust around the place. So if you carelessly abandon it, it will cover the cut-line with sawdust that can make it impossible or difficult to see even with LED or laser light. This could affect your cuts in worse ways. If the cuts are short, it should not be a big issue but in case the cuts are longer, it could be a big problem. This is where a dust blower helps as it will collect the dust away from the jigsaw when you are cutting with it. Hence, it comes as a handy feature and even better when it is paired with an LED light. However, the strength of the dust blower is depended on the speed of the motor, which means that in case the jigsaw is not running at full throttle, the dust blower will also not move much.
6. Vibration Reduction
If you are using a power tool, it is sure to create vibration to a certain level. While some machineries tend to create more vibration, jigsaw tool creates considerable vibration, to an extent that it could cause hand-arm vibration syndrome which is why it is good to look for a tool that reduces the amount of vibration from reaching your hands so that you can work comfortably with it. In addition to that, you can also keep the work area cleaner and make cuts more accurately by preventing the jigsaw from slamming the material up and down.
7. Trigger Lock
Trigger lock is an important feature in a jigsaw to help you have a grip over the machine. If you feel you might have long hours of cutting to be done, trigger lock will prevent your hands and forearms from tiring and cramping easily when you are maneuvering the blade. The trigger lock helps to lock the trigger in its required position without you having to hold it down manually. This way you can adjust how you want to hold the jigsaw while cutting.
8. Tool-Less Blade Change
The jigsaw blade is one of the most important thing in a jigsaw and the quality of it has a big impact on the overall product. These blades are mostly thin and they can even bend or break. However, they are not too expensive so in case you feel your blade is not cutting through the material well it could either be because it is bent or just dull so it would be ideal to get a new one. With a tool-less blade change, your cutting can be more accurate and it will ensure you the best cut quality.
Shank Type For Your Jigsaw Blade
A jigsaw blade is mostly ¼ inch wide and 1/32 inch thick and although they are not the most sturdy piece of steel you will come across, but its flexibility makes it like a double edged sword which allows you to make curved cuts without having to break the blade, and this with keeping the edges square. All modern blades come in a wide range of sizes and shapes and they are designed in a way that can reduce friction. A standard blade is designed in a way that it can cut through on the upstroke, which means that any kind of wear and tear will happen on the top of the material. A reverse-tooth blade, on the other hand, has its teeth facing on the opposite direction and it can make cuts downstroke. So any kind of wear and tear will happen on the bottom of the material with this blade.
You need to understand your shank type that is required of your jigsaw. While some jigsaws are compatible with both T-shank as well as U-shank, the type of shank will show how your blade can be fastened to your jigsaw.
T-Shank Blades
T-Shank blades are mostly used with all modern jigsaws and they have a cone-shaped end that comes with two flanges. These shank blades are more commonly used since it does not require any form of external tool for you to change the blade and it can quickly and easily be changed. Your jigsaw can be compatible with both T-Shank blade as well as U-Shank blade.
U-Shank Blades
Unlike T-Shank blades which comes with conical end, U-Shank blades have a convex end that looks like the letter U and they can be fastened to the jigsaw with the help of a set screw which will require you to use an Allen wrench in order for you to change the blades.
Safety Tips To Keep In Mind
In comparison to circular saws, table saws or chainsaws, jigsaws are mainly safer because of the lack of kickback. This is because jigsaws do not use rotational force like other saws.
In case you want to change a blade mid-cut to not force the saw forward, keep in mind that the blade will be hot. So ensure that you unplug the jigsaw first and keep it some feet away.
As and when you can, make sure you clamp the materials down. This will help you keep both your hands on the saw and not push too far when cutting.
Keep the cord in sight when you are cutting so that you do not make a cut that turns right back around.
Last but not least, always wear proper eye and ear protection when cutting through with a jigsaw.
Best Jigsaw Brands
1. DeWALT
DeWALT as a brand was founded in the year 1924 and since then has always been a household name in the woodworking machine sector. It is used by both professionals and for household works and is known for their durable products. Their range of products is vast which ranges from radios to axes to nail sets as well.
2. Makita
Makita was founded in 1915 and it has been more than a century now that it has been a successful brand name in the motor sales and repair business. Over the period of time, it has also grown to be a successful brand internationally in the power tools sector. Irrespective of whether it is a machine that runs on gas, on battery or on electricity, Makita as a brand covers them all in terms of professional quality and durability.
3. Bosch
Bosch was founded in 1866 by one Robert Bosch who was once quoted as saying "I would rather lose money than trust" and that has cultivated the reputation of the brand in terms of quality and innovation among a wide range of equipments, services and power tools. They are known for creating quality driven auto parts, accessories, provide with automotive service centers, garden tools, appliances and a lot more.
4. Black & Decker
Black & Decker was founded in the year 1910 and when they began they were not dealing with power tools but with machines that could make milk bottle caps. However, in the year 1916, they first patented electric drill with a pistol grip and a trigger switch. With the course of time, they have come to make almost anything and everything that is consumer grade and under the sun including power tools, lawn and garden equipment, appliances and home cleaning products.
5. PORTER CABLE
In the year 1906, R.E. Porter, G.G. Porter, and F.E. Cable began with creating a jobbing machine and tool right from their own garage in the city of Syracuse in New York. In the year 1914, they shifted their business to power tools and eventually they started designing power tools that were portable as well such as belt sander and band saw. After almost 100 years, PORTER CABLE is now known to have a reputation for creating quality and reliable power tools and machines globally.
6. Hitachi
Hitachi is one brand that is not known much in producing power tools but they make great tools. It was originally founded in 1948 and was known for manufacturing coal mining machinery and electric power tools. Ever since then, they have gradually grown to be a brand that has manufactured tool lineup such as pneumatics, metalworking, woodworking, drills, saws and a lot more.
Conclusion
The most important thing is to realize whether you really need a jigsaw for your woodwork. A jigsaw is a powerful and versatile tool undoubtedly, but in case you are ripping off plywood, there are again other tools in the market to get the job done for you. So be sure that you need a jigsaw and only after that should you consider spending your time in understanding how to use it for your purpose. LED light and dust blower are great additions in a jigsaw that helps you continue with your work even in low light conditions and again keeping the work area clean. Lastly, another factor to keep in mind is your budget and likewise see the features that are worth your consideration for your purpose. We are hoping this buyer's guide has been really helpful for your purpose of narrowing down on the best jigsaw for you. If you have further queries, drop in a line in the comment section below and we would be happy to assist you.